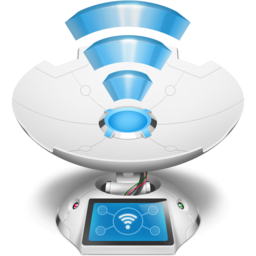 NetSpot
2.6.797
Size: 1 KB
---
Downloads: 241464
---
Platform: Mac OS X
Signal strength is the main concern when it comes to wireless networks. The signal may be good in one room, but non-existent in another, due to an interference. NetSpot can provide you with a clear picture on your Wi-Fi network's signal strength, in different locations. Rather than wandering around the house or office with a mobile phone, you can just click a few options to create a network site survey, to see where the wireless signal is the strongest or weakest.

NetSpot has two main features to offer. Besides its surveying capabilities, you can also use a Wi-Fi discovery function. It automatically scans for wireless networks, at an interval of your choice. Detected networks are displayed in a list, along with various details, including signal strength. If you want general information about a network's signal strength, you only need to let the application scan for networks. Additional details about a selected network can be displayed on a separate window.

If you need more than general details, you may switch to the survey feature, on the same interface. To execute a network survey, you will need a map of your house or office, which you can either import, if you have it on your Mac or you can draw a new one from scratch. When your map is ready, you must click on your position on the map, wait for the scan, then repeat this step at least two more times, in different locations.

When the application is done scanning, it will overlay a heat map over your floor plan, to illustrate the signal level in different areas. What's more, NetSpot allows you to switch between different heat maps, to see the signal to noise or signal to interference ratios. The heat maps have many uses. For example, they can help you figure out what devices are interfering with your network's signal or pin-point an area where your signal is "leaking".


Pros
You can survey your wireless network in your home or office. The application provides you with heat maps, to help you visualize the signal strength and interferences in different areas. The application can also scan for wireless networks in your vicinity and analyze their signal strengths.
Cons
Many features are reserved for the application's Pro version. With NetSpot, you can draw a complete picture of your Wi-Fi's signal, regardless if you are in an office or at home.
NetSpot Awards
---
NetSpot Editor's Review Rating
NetSpot has been reviewed by Frederick Barton on 28 Oct 2014. Based on the user interface, features and complexity, Findmysoft has rated NetSpot 5 out of 5 stars, naming it Essential
---